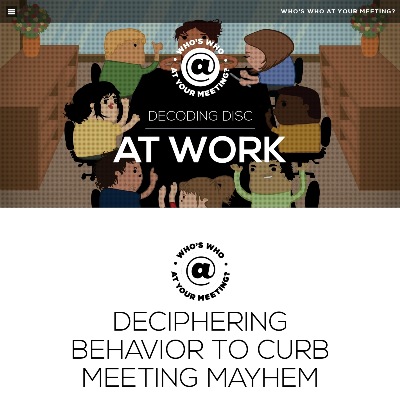 Understanding the unique behavioral traits of the people you work with is essential in achieving superior workplace performance, production and profitability. Senior managers and HR directors looking for new ways to assess workplace behavior can now turn to a new resource site.

Decoding DISC

Provided by TTI Success Insights (TTI SI), the leader in DISC talent assessments, TTIDISC.com provides visitors with a matter-of-fact, practical guide to understand the DISC theory (Dominance, Influence, Steadiness, Compliance), which was first developed almost 90 years ago by renowned psychologist Dr. William Moulton Marston. Today, DISC assessments are used extensively by organizations worldwide to improve teamwork and understand different communication styles.

TTIDISC.com offers straightforward information on each DISC style by explaining the unique behavioral characteristics of individuals on both the high and low side of the spectrum. The website also provides a veritable who's who with celebrity examples of each DISC style, as well as communication dos and don'ts when interacting with differing behavior types.

"Understanding the unique behaviors and talents people bring to the workplace isn't always apparent and observable to management and other key decision makers," said Bill J. Bonnstetter, chairman and founder of TTI SI and Target Training International Ltd. "With the launch of TTIDISC.com, it's my hope the light bulb comes on and new ideas are shared on how individuals and teams can achieve improved workplace relationships and success."

Because workplace meetings can be delayed or sidetracked by conflict and irritating behavior, TTIDISC.com explains DISC from the perspective of wanting to end "meeting mayhem." Visitors will gain an understanding to help their organization gain an edge in efficiency, positivity and growth — and better meetings, too. Check it out today!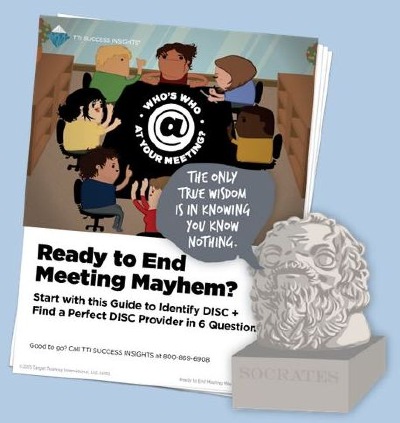 What to know before selecting a DISC provider is addressed in the DISC Deciphering Guide.

Get a download of the DISC Deciphering Guide to help you identify your perfect DISC provider and what makes TTI Success Insights' DISC unique. We call it best-in-breed.

Tap on the Guide (left) to download the DISC Guide - includes six critical questions to ask the DISC assessment provider. Of course, we provide our answer in the guide.


Call our order desk at 972.346.2892.

Or

Complete the inquiry form here.